Phong Nha Ke Bang 1 Day Tour, Phong Nha – Ke Bang day tour, Phong Nha Caves Tour: Come to Phong Nha Cave or Paradise Cave, Chay River, Dark Cave Phong nha, Mooc Springs…With the program: phong nha cave tours, day trip to phong nha cave. The best ticket phong nha cave price of Phong Nha Explorer Travel is the choice for the request experience own way, so you can discover new lands in your way.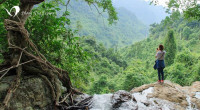 Phong Nha Cave tour has been regarded by British Cave Research Association as the top cave in the world due to its 4 top records: the longest underground river, the highest and longest cave, broadest and most beautiful fine sand beaches inside the caves, the most spectacular stalagmites and stalactites....
Active explorer Paradise Cave 7,000m depth. Active explorer Paradise 7,000m depth, suitable for enthusiasts who conquer nature, love to explore, sports, adventure and above all the feeling to find yourself again. PARADISE CAVE ADVENTURE TOUR 7KM Travelers start the system from the end of the wooden staircase...
Quang Binh is not only caves but also have wonderful sea paradise. Vast domain of white sand, the blue of the water, the blue color of the sky and sea breezes cool, dispel the heat of summer. Paradise Cave: 70 km northwest of Dong Hoi city. It's a dry cave and is called "underground palace". Compared...
Phong Pha Ke Bang Day Tour go to Phong Nha Cave And Paradise Cave Tour the journey to Phong Nha – Ke Bang is home to the largest cave in the world and 300 different grottoes and caves, the most typical is Phong Nha Cave and Paradise Cave. Phong Nha Ke Bang 1 Day Tour Phong Nha Cave day tour has...
Phong Nha cave is the most famous cave in Phong Nha – Ke Bang national Park. It should be the first choice to visit when you come to this national park. This cave is about 45 km from Dong Hoi. This cave is a wet cave and famous for rock formation which has been given the name such as the "...